Volunteer Of The Month

July 2017
Emma Wind
Program Assistant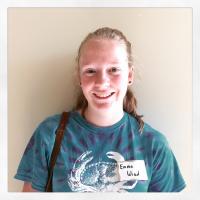 Why We Love Emma Wind: At just 13 years old, Emma has consistently blow us away with her maturity and ability to keep girls safe in a fun environment. Emma attends Girls Athletic Leadership School (GALS) and enjoys cross-fit, circuits, skiing, cross county and making music. She has quickly become a volunteer that our instructors rely on. We are honored to recognize her this month for all of her her work and dedication to the girls.

Who's The STRONGest Person You Know: My teacher Ms. Duawalter is the strongest person I know. She is super smart and strong. She runs 100 mile races, and wins them! She is my Cross Country coach. I aspire to be like her because as she is kind but is also true to herself. She has the endurance to keep going even when it is hard.

What's The SMARTest Thing You Have Ever Heard: "It's not whether you win or lose, it's how you react and move on." I believe in learning from your mistakes and making the best of your circumstances. This allows you to change your circumstances, and grow as a person.

What's The BOLDest Thing You Have Ever Done: I stood up for my friend who was being bullied. My friend was teased because of how she looked, and I told the bully that it did not matter how you look, it matters how you are on the inside. It takes courage to stand up to people who are mean.
Volunteer For Girls Inc. of Metro Denver